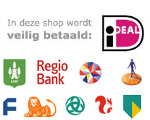 Voor alle producten geld een levertijd van 1-3 Werkdagen (Ma t/m Vr) na ontvangst van betaling. Dit is afhankelijk van tijdstip van bestelling en betaalkeuze.
Hallo en Welkom in onze WebShop.
Voordat u verder gaat met shoppen wil ik u graag attent maken op onderstaande tekst bij Wist U: . Hierdoor hopen wij dat u alle belangrijke informatie vooraf gelezen heeft alvorens u bij de kassa gaat afrekenen. Mocht u vragen hebben dan neem gerust contact met ons op via het Contact formulier of telefoon, deze is te vinden onder Contact boven in de balk.
Wij wensen u veel Shop plezier.
Wist U:
-

Dat de getoonde prijzen in deze webshop inclusief de BTW zijn.
- Bij een bestelbedrag boven de €150,- betaald u geen verzendkosten. (NL + BE)
- Let op!! België kan alleen via Kiala bezorgt worden.
Anders worden er wel verzendkosten berekend.
- Kiala Verzending: (NL+BE) Geef bij het afrekenen onder Extra informatie uw
dichtsbijzijnde Kiala punt door.
- Als u kiest voor

Betalen bij Afhalen

. Dan betekent dit, dat u de producten betaald bij afhalen

in onze

winkel

.
- Getoonde kleuren op de Foto kunnen afwijken van het geleverde product.
- Dat onze LeChat Gel polish in een flesje van 15ml geleverd word. En er een gratis
nagellak bij zit voor bijvoorbeeld op de teennagels. "Perfectmatch."

_______________________________________________________________________________________________________________________________

Zomer Actie........... LeChat heeft een geweldige zomer actie met een flinke korting, Profiteer er nu van, wees er snel bij, want OP=OP.
Kijk aan de linker kant bij Acties of Aanbiedingen voor onze huidige Zomer Actie.